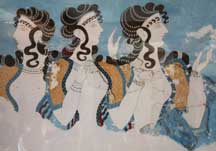 Culture: All the historical sites are easily accessible by car within one to two hours: The Minoan palace of Knossos, the museum of Heraklion and the archaelogical sites in Phaistos or Agia Triada, to name only the best known.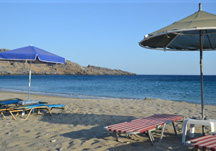 Swimming: The bay of Damnoni, which is within walking distance, offers a long sandy beach, beach chairs, umbrellas and two tavernas. Right behind it there is a small nudist cove. Tip: In Kerames there are kilometers of deserted beaches.
Diving: Discover the underwater world of Crete. Experienced instructors guide you when traveling to the depths. Crystal clear water, colorful schools of fish and a fascinating underwater world are waiting for you. There are courses for beginners and advanced as well as support for advanced divers. Inquiries and bookings on site.
Hiking: Women who simply want to discover and enjoy nature and the scent of Crete, there are the sea, the canyons or several mountain tops to the immediate vicinity and can be reached at any time of the year.
Guided hiking: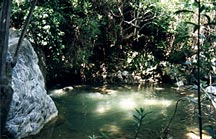 River-hiking in the waters of the turquoise Megalopotamos to the subtropical jungle forest of Preveli with palm trees, mastic, eucalyptus and oleander.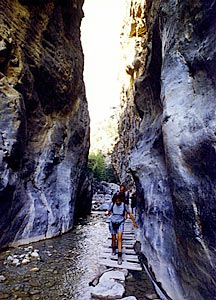 Aradena: located right next to the famous Gorge of Samaria. Beginning in the White Mountains at an abandoned village a small path leads through the gorge down to the sea – among the steep cliffs.
Imbros: 20 km away, light but impressive scenic canyon walk to the sea.
Samaria: longest and most famous canyon in Europe with the last wild goats. We have found a way to reach and to hike through the Samaria Gorge from Cassiopeia in one day. For inexperienced hikers the end of the canyon is accessible by boat, to get a taste.
Horse riding: there is a farm with horses and donkeys near us. They offer riding lessons and rides in the terrain (also donkey trips).
Other sports such as tennis, boating, snorkeling, mountain biking and motorcycling are all feasible. The local offers are constantly changing, we will inform you about the current possibilities.
Climbing: There is a climbing wall at the end of the bay of Plakias.
Pampering: Hawaiian massage and yoga are offered in the house. Once a week Susanne dances the Falk dance with us… fly standing and find inner balance.
Flavours: We offer vegan cooking classes or Cretan specialties on request.